As some of you may know, I spent my grade 7 year traveling around the world, and now that I'm a little bit older, I kind of want to know how I would interpret some of my most memorable experiences. I wonder if I compared my past thoughts to my present thoughts if they'd be any different. I'd like to tell you now about one of my funniest experiences (or what I now think is funny, I may have thought differently at the time). It is also one of my worst experiences, but now that I look back, it is hilarious. It is a story about my experiences in a hostel in Egypt. If you'd like to see how I wrote about this when it happened, check out my travel blog. The link is in my "About Me" page. This is how I think about it now.
We had just returned from Luxor, Egypt and now we're staying at a hostel in Cairo. Right off the bat, I have to say that this place should not have been here. It should have been condemned by the government. To get to your room, you have to walk down this sketch hallway to a closet. Once you reached the closet, you had two options. You could take the stairs, that had a dip in every step and wires hanging over your head, or you get inside the closet. Why get into a closet? It was an elevator. No walls around it or anything! No safety precautions what-so-ever. Only a thin wire that pulls the closet up. You're practically dangling there as you go up cause there is no support! Anyway, enough about the entrance. The really fun part is when we got to our room.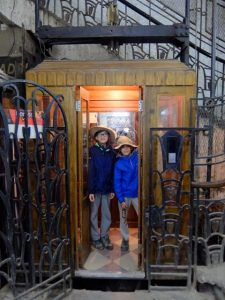 Our room was on the third floor and had a very musty smell. There were bars on the windows and the only source of light was a tiny lightbulb, dangling from the ceiling by a chain. The beds smelled weird, and I was scared to remove the sheets to see what might be growing under it. The pillows also smelled weird, and we found the reason why was there was mold growing on it! No wonder we slept on towels that night. There was a bathroom (thank goodness!), but it was smaller than the hanging closet we took to get up there! The shower only had cold water, and it was two feet by two feet! The toilette was right beside it, and I'm not even kidding when I say that it was so close, you could go to the bathroom and shower at the same time! Also, you may ask, how do I know the dimensions of the bathroom? Quite simple. I measured it, but you know somethings up when you can easily measure the bathroom with a footlong ruler.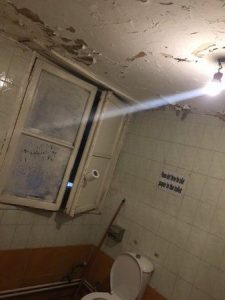 The worst part was there was a carpet in the middle of the room. It was bad enough that every time you took a step the floorboards would fluctuate and creak, but under the carpet, there were places there were no floorboards at all! You could see through the floor all the way to the first! No wonder I didn't sleep easy that night. My bed was moldy and I was worried I'd fall asleep on the third floor and wake up on the first! I did survive though. Maybe because the floorboards held up, or maybe because God felt bad for me and decided he didn't want me in his kingdom yet. I'm not sure, but either way, I'm still alive to tell the tale!
So that's it. That is my interpretation of what happened that day. I need to compare it to my old post. Maybe I will post another later, but for now, that's all! I'd also love to hear about your own bad yet funny experiences! If your willing to share, please tell me! I love when other people have stories to tell!